Indian Fusion intensive
with
​Josefine Wandel
As a student of classical Indian dance, Josefine's 'Indian Fusion' style is highly inspired by the aesthetics of Indian art. The philosophies of ancient Indian art are a strong background of her work. Through research and practice she fuses Indian aesthetics with the aesthetics of Tribal Fusion Dance. Tribal Fusion Dance is a dance style, that developed in the 90's in the US out of different asian and oriental dance styles, combining the posture and strength of flamenco with the earthiness of different folklore styles. The background of Tribal Fusion is the American Tribal Style, an improvisational dance form that developed in the US and The presence of Josefine's Indian Fusion style is often described as strong, graceful and snakelike - as a serpent from the desert of India.
Homepage :
www.indian-fusion-dance.com
YouTube channel :https://www.youtube.com/user/Jumaana88/
Facebook Fanpage :
https://www.facebook.com/josefinewandelin
dianfusiondance
instagram : josefine_wandel
Powered by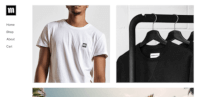 Create your own unique website with customizable templates.